Visiting Japan: Part 2
This is the second of three posts. The three parts are 1, 2, and 3.
May 26
In the evening I got on the Shinkansen and went to Tokyo to meet with Martin, Kyoko, and Sarah. I met them at Shin-Yokohama and we went to Minato Mirai and rode the large farris wheel. It was pretty cool.
Then we had Sushi. Which was interesting. Raw fish is subtle, but tasty. Honestly I learned through the trip that I prefer raw fish to cooked fish. Also the rice is amazing in Sushi. In fact the rice Shuyu, Wasabi combination is my favorite part. I ate Fugu (puffer fish) but I was not actually that impressed. It was good but not impressive deep fried, but the raw Fugu was really tough and kind of boring. However I really enjoyed the Unagi (I think, it might have been a different eel) and what I think was some kind of tuna. Overall it was very good. Sushi is the only meat that I ate in Japan that I kinda wish I ate more often, but I think I will be happy with vegetable Maki because rice and sauce are my favorite part. That being said, if I go back to Japan (which I would like to do) I would probably eat more Sushi.
Then we went back to Martin and Kyoko's apartment.
May 27
In the morning we were off to do some sight seeing after a very american breakfast of sweet breads. Japanese food is very seldom sweet and there is very little distinction between foods for different meals. For instance I had beef curry for breakfast one time. Also even the food that are usually very sweet in America are not in Japan. For instance I bought a chocolate donut that was only mildly sweet. It was incredibly good. Soooo chocolaty.
We went to a sort of shopping area whose name I have forgotten and wandered around some. We saw a traditional Japanese wedding party. I picked up some interesting items like miso pickled ginger and ume balls with peanuts in the middle (they were hallow with the peanut loose so they rattled it was funny).
As you know I'm sure in America Japanese characters are used randomly to make things look fancy and exotic. Well the opposite is true in Japan. They use roman characters and english words to make things look exotic and I think forceful because the roman characters looks crude and blocky compared to the Japanese characters.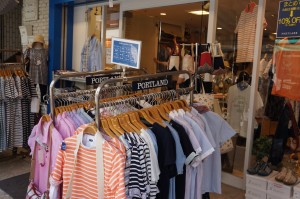 We went to a Shinto shrine. I love shrines. As much as I am an athiest Shinto shrines are one of the few places where I feel like gods might actually hang out. They are amazing. And many of them are beautiful and peaceful (this one failed on the last point).
Then we walked to a Buddhist temple (and very pretty bamboo grove). Along the way we say the narrowest car I saw while in Japan and that's saying something. At the temple we had Macha and sat for a bit. It was very beautiful up there.
Then we took the bus back to the shopping district and got some lunch. We got Soba. This is Marty demonstrating how to properly eat Soba. The noddles and the sauce are both cold. It's a really awesome summer meal. I want to learn to make it properly. I think it would be hit in Austin in the summer. The sauce is Shuyu and some wine of some kind and a broth of some kind (usually fish based). At the end of the meal I was ate my last noddles and then I stared at my dipping sauce and resisted the urge to just drink it. And then to my joy the waiter came out and gave us hot water (from the cooking of Soba so it's also starchy) that we could mix with our remaining dipping sauce to make a sort of soup to drink. It was awesome.
Then we went to the train to head to a place with a giant Buddha and some other things. The train stations in Japan has even more advertising than the NYC subways. It was pretty impressive.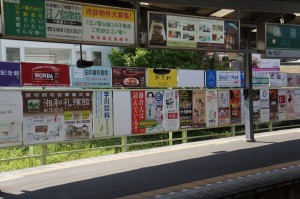 Both Buddhist temples and Shinto shrines have a tradition of performing a cleansing ritual and I quite like it. They have a trough of running water with ladles and you scope some water and pour some over each hand and then pour a bit in your hand and rinse your mouth. This Buddha by the way is huge (over 40ft tall and over 120tons). It was originally in a building but that building was leveled by a tsunami some 600 years ago, but the statue was left intact where the building used to be. It also survived the earthquake of 1923 without damage. Oh and someone made a pair of shoes for him.
Then we went to a shrine with a huge beautiful garden. There were also lots of interesting statues of warriors and demons. I also got a good look at the bay and actually walked in it.
There was also a small network of caves with a bunch of statues. Each one was a particular known person and there were donation boxes for many of them for people to put 10yen in as in the tradition for a Shinto prayer.
And I also walked down to the ocean.
Oh and for some reason I do not know, the train stop in the station there had a frog with a frog on it on it. ;-)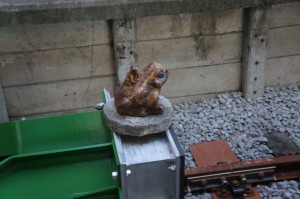 May 28
Marty had things to do in the morning, so Kyoko and Sarah and I went to a shopping district. It was something like the village in Manhatten. Lot's out outdoor racks with outrageous cloths and odd sunglasses.
Then we went to an area a little more like lower the area around J&R in lower Manhattan. Upscale department stores, electronics, etc. I, of course spent some time running around in the huge electronics store. But I think the highlights were getting to handle an ASUS transformer. And the Sony NEX display. I have a camera in that line so I was really excited to get to try all the lenses that were available for the line. The had a couple of bodies and bunch of lenses and you could just swap them out and play with them. It was awesome. I do kinda wish I had swapped them onto my camera body instead of theirs so I would have the images taken with all the lenses.
In that area there was a very distinctive and spaceship looking building. Also as usual huge amounts of parked bikes.
When we got lunch I noticed something: All the restaurants had wax or plastic models of food in their window. It seems this is the norm and that there is business in making these models.
In the mid-afternoon I met up with Marty one last time and then headed to the Shinkansen to get down to Nagoya to go to my second conference (WFLP).
Posted in
Life (other than code)
,
Travel